5 February 2022 • Arthur's Pub, Křižíkova 27, Praha 8
After missing our first event in 18 years in 2021 owing to COVID, we were ravenous to return to our favourite event of the year! Also thanks to COVID our original date had to be postponed a week, but despite all the trials and tribulations we had another brilliant evening! This time at newly opened venue Arthur's Pub, owned by Martin & Lenka some of our top regular guests. Pay them a visit: www.arthurspub.cz
COVID took its toll on our guests, but 52 intrepid Burns fans gathered to eat the superb traditional food and to ensure our sponsor Glenfiddich was honoured by consuming all bottles :-)
The poetry was spellbinding as always, first with the welcome return of Shetland fiddler Alistair as haggis reciter, as well as band leader! Of course the talented Jiři Knot responded in appropriately histrionic Czech. Jana led a unique recitation of the famous song "auld lang syne" in Scots, English, Russian, Hungarian, Finnish and Spanish! Special thanks to Alistair's band, Chip on the pipes, Honza as the celidh leader and the brilliant staff of Arthurs!
Our charity auction raised 50,000 czk, which will really help our (now 5) "adopted" children in India and Zambia. Thanks to all participants and donors.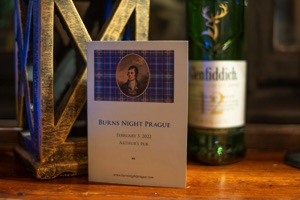 Here are some stunning photos from our professional photographer Jakub Moravec who as usual did a first rate job of capturing the flavour of the evening.
See his photo album
If you were there, we welcome your contributions. Email to help@burnsnightprague.com
Alistair addresses the Haggis... (video thanks to Andy Martinez)