25 January 2020 • Malostranská Beseda, Prague
Another new venue - but this looks like a "keeper". Superb food & drink and a properly "rustic" atmosphere made the Malostranská Beseda gallerie an ideal fit. We were at near capacity with 80 guests, all in all a perfect event! No shortage of volunteers to read Burns poetry in a variety of languages including for the first time a moving Yiddish thanks to Linda. Sponsors Glenfiddich were as usual generous with the provision of fine whisky, which perhaps some people may have regretted Sunday! :-)
Our charity auction raised 50,000 czk, which will really help our (now 5) "adopted" children in India and Zambia. Thanks to all participants and donors.
If you were there, we welcome your contributions. Email to help@burnsnightprague.com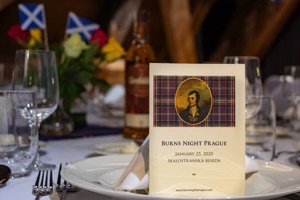 Here are some photos, from Gordon Howell, but the better collection is from our professional photographer Jakub Moravec who as usual did a stunning job of collecting the flavour of the evening.